Repurposing Ballarat's bountiful heritage buildings for arts and creative industries
By Ailsa B du Bois, 21st July 2013
http://www.artsatlas.com.au/news-item/repurposing-ballarats-bountiful-heritage-buildings/
The imaginative repurposing of heritage relevant buildings for private business use is not a new phenomenon, by any means. Hospitality venue and hairdressing salon owners have capitalized on the potential of historic buildings for some time now. However, a mass of other commercial buildings have sat idle across Ballarat for decades, ever since the demise of the corner store. Thus far, it seems relatively few of Ballarat's countless built treasures have been transformed by creative and artistic types for arts industry purposes. With population growth on the rise this may be set to change.
Due to their sheer size and prominence, former churches have been some of the more visible heritage assets to be transformed by visionary creative types. As society's values changed, and church congregations dwindled, more and more of these glorious buildings came onto the market. They offer such tremendous scale, which is especially valuable for the performing arts, and generally provide a blank canvas internally (albeit with extraordinary embellishments.)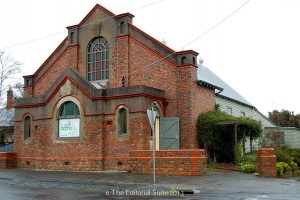 Back in 2000, Paula Heenan of BCMA recognized the potential of her local Baptist Church in Victoria Street. It seemed ideally suited for refurbishment as a school for music, dance and drama. Today it continues to provide a stunningly spacious and ambient environment for the education of our young, along with an embracing community feel. Pamela Waghorn has also run her Ballarat Dance Works in an old Burnbank Street church building for many years. Other dance schools across town have utilized school-houses and community centres of historic value.  Ironically, the greatest challenges of these often grand buildings are almost always the direct consequence of their perceived benefits. Difficult and expensive to heat, with on-going maintenance issues, these giant spaces are not for the faint-hearted.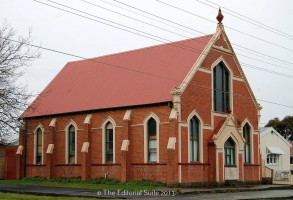 Linda Franklin purchased her former church building in 2009 in order to launch South Street Art Studio. She chose it primarily because it was affordable and provided a multi-functional space with a flexible open-plan interior. She had to spend money on installing plumbing for the kitchen, and various other modifications, but other than spending an initial $30,000 on improvements, she's found it ideal for her business and residential needs ever since. Linda says the guttering all needs redoing, but at a cost of $15,000 it's not a priority she can think too much about right now. Several thousand dollars of that projected cost is just for the scaffolding to enable workers to get up there in the first place. Still, Linda is very capable of living frugally and says she wasn't scared of on-going maintenance issues, because she has a strong background in heritage restoration, which harks back to her child-hood upbringing.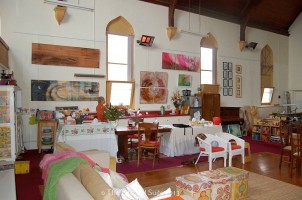 Likewise, Nora Lynch opened The Church Retro Café in an old Albert Street church 18 months ago on a very low budget and utilizes every gorgeous nook and cranny of this building for displaying her vintage clothing, books and assorted goodies. The charm and ambience afforded by these sort of historic environments is second to none. Trevor Williams and Stephany Panhuysen's B1 Ballart Art Space in Camp Street is yet another example of a repurposed heritage building of grand proportions entering a new phase of life.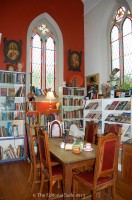 Integral to the successful reinvention of heritage buildings is a sensitive and light touch. The principles of considerate restoration are embedded in The Burra Charter (the heritage conservationist's key doctrine.) It's important to bear in mind that often the less you do to a heritage building, the better it might be, from a heritage perspective.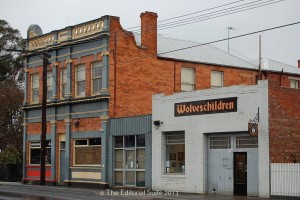 A great example of lightness of touch is the approach taken by Erin Bond Matheson (and her partner Luke) with their recent reinvention of an old motor mechanic's garage. Wolves Children opened in Humffray Street North this month, following 3 months of preparation. Most of that time was spent cleaning. The interesting thing about this story was that they had no business plan whatsoever prior to falling in love with the site. They developed their ideas for an art gallery, store and studio hire space in response to their affection for the historic charms of the building and their desire to do something good with it.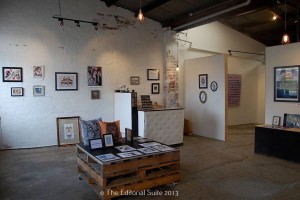 They've worked hard to allow the building to speak for itself, leaving the remnants of the building's industrial character on show throughout. Even the over-sized stable door still hangs at the back, battered and bruised, loaded with 19th century working stable connotations. While Erin might tell you she has not done much to the building, the fact is that she's made a conscious decision to respect the integrity of the original fabric of the building.  The ambience of the space is all the more prevalent as a result.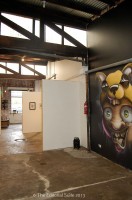 Various corner shops and house and store combinations have been put to the test for creative purposes around Ballarat over the years. My husband and I personally invested immense amounts of energy and money into gently refurbishing a character-rich 1800s Butcher's Shop in Humffray Street North. The Smoke House ArtGallery enjoyed a brief hey-day catering for emerging artists during 2006, and we've watched with interest as others such as Space 22 and Red Brick followed after us, breathing fresh life into previously tired old buildings. We were also excited to see The Crafty Squirrel open in July 2011 in our very own Urquhart Street – a sweet residential style building from a long-gone era, perfectly suited for Morgan Wills' creative production and retail expression.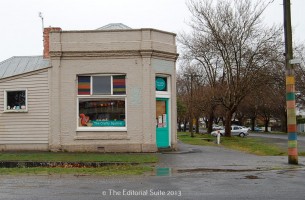 The positive impact of having run-down old buildings transformed by creative people has been well demonstrated and documented globally, but it is so great to see the momentum finally building in Ballarat. The flow-on benefits to street-scapes, neighbourhoods and local communities are tangible. The sheer range of relatively untouched heritage relevant spaces still available across Ballarat is breath-taking. We are very fortunate to have such bountiful options before us for revitalisation. Best we ensure they are treated with all due respect. And who better to make this so than artists and creatives?